I came across this reel of Piero Taruffi's attempts on his glorious TARF. This clip from youtube actually puts together two different events with different layouts. In the first one the so called "bisiluro" (not to be confused with Carlo Mollino's equally amazing Le Mans racer from 1955) branded "Italcorsa" is equipped with a 4 cyl 1720cc Maserati engine, with two compressors. In the second one the car is equipped with a Gilera Rondine derived plant of only 500cc not compressed, making it the first vehicle of that capacity to break the record of 200km/h. Taruffi was an amazing man and one of the forgotten heroes of motorsport.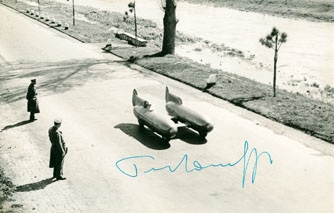 His palmares is amazingly complete, including the 1951 Carrera Panamericana, 1952 Targa Florio and 1957 Mille Miglia when he was already over 50 years old. He was equally, if not more, successful on two wheels. He is in fact responsible for an impressive amount of technological improvements and for the development of the Gilera Rondine. He broke 33 world records for motorcycles in 1939 alone.
Quite an amazing man indeed.